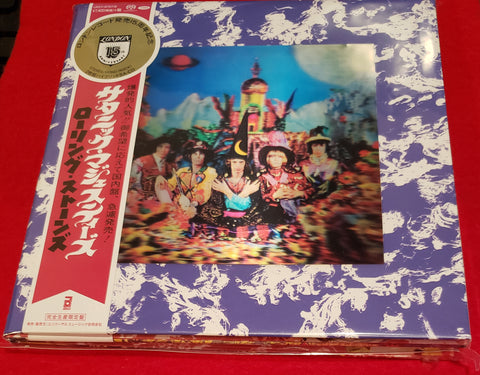 The Rolling Stones - Their Satanic Majesties Request - Japan 7" SACD - UIGY-9707/8 - CD
Brand new and factory sealed.
- Made in Japan.
- Packed in a special 7-inch-sized folded cover. Artwork featuring 3D lenticular printing.
- OBI faithfully replicates the one coming with the Japan 1st pressing LP.
- Cd's mounted on a cardboard 'replica' of a 7" cone in a 7"x7 " replicas of original LP inner sleeves.
- Includes two bonus artworks on 7" x 7" sheets, each replicates Japan 1st pressing 7" single 'She's A Rainbow' & 'The Lantern'
- 20-page color booklet.
- 16-page booklet with lyrics and a description written in Japanese.
Track Listing:
CD1 (Stereo):
1. Sing This All Together
2. Citadel
3. In Another Land (Stereo Version)
4. 2000 Man
5. Sing This All Together (See What Happens)
6. She's A Rainbow (Stereo Edit Version / Without Intro)
7. The Lantern
8. Gomper
9. 2000 Light Years From Home
10. On With The Show
CD2 (Mono):
1. Sing This All Together
2. Citadel
3. In Another Land (Stereo Version)
4. 2000 Man
5. Sing This All Together (See What Happens)
6. She's A Rainbow (Stereo Edit Version / Without Intro)
7. The Lantern
8. Gomper
9. 2000 Light Years From Home
10. On With The Show
---
We Also Recommend