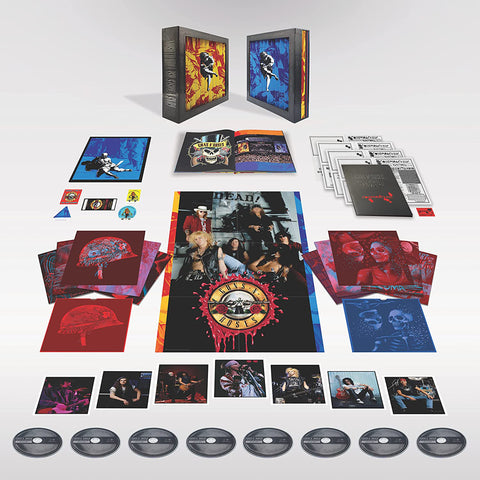 Guns N' Roses - Use Your Illusion - Super Deluxe 7 CD + Blu-ray
Brand new and factory sealed.
Use Your Illusion Super Deluxe 7-CD box with 97 total tracks – 63 unreleased audio & video tracks. UYI I & II albums remastered for first-time ever. LIVE IN NEW YORK & LIVE IN LAS VEGAS albums are first-ever-released complete concerts for UYI-era GN'R. LIVE IN NEW YORK Blu-ray features full concert film in HD with surround & stereo audio. 100-page hardcover book with unreleased photos & images. Additional items include replica Conspiracy Inc fan club kit, 10 double-design lithos, 4 backstage passes & much more.
Track Listing:
CD 1 - USE YOUR ILLUSION I - (Original Album Remastered)

1. RIGHT NEXT DOOR TO HELL
2. DUST N' BONES
3. LIVE AND LET DIE
4. DON'T CRY (ORIGINAL)
5. PERFECT CRIME
6. YOU AIN'T THE FIRST
7. BAD OBSESSION
8. BACK OFF B*TCH
9. DOUBLE TALKIN' JIVE
10. NOVEMBER RAIN*
11. THE GARDEN
12. GARDEN OF EDEN
13. DON'T D*MN ME
14. BAD APPLES
15. DEAD HORSE
16. COMA

CD 2 - USE YOUR ILLUSION II - (Original Album Remastered)

1. CIVIL WAR
2. 14 YEARS
3. YESTERDAYS
4. KNOCKIN' ON HEAVEN'S DOOR
5. GET IN THE RING
6. SHOTGUN BLUES
7. BREAKDOWN
8. PRETTY TIED UP
9. LOCOMOTIVE
10. SO FINE
11. ESTRANGED
12. YOU COULD BE MINE
13. DON'T CRY (ALT. LYRICS)
14. MY WORLD

CD 3 - LIVE IN NEW YORK - (Ritz Theatre – May 16, 1991)

1. PRETTY TIED UP*
2. BAD OBSESSION*
3. RIGHT NEXT DOOR TO HELL*
4. MR. BROWNSTONE*
5. DUST N' BONES
6. LIVE AND LET DIE*
7. PARADISE CITY*
8. VOODOO CHILD (SLIGHT RETURN) / CIVIL WAR*
9. DRUM SOLO*
10. SLASH SOLO*
11. YOU COULD BE MINE*

CD 4
LIVE IN NEW YORK* (cont'd)

1. I WAS ONLY JOKING / PATIENCE*
2. ONLY WOMEN BLEED / KNOCKIN' ON HEAVEN'S DOOR*
3. DON'T CRY (ORIGINAL)* [features Shannon Hoon on vocals]
4. YOU AIN'T THE FIRST* [features Shannon Hoon on vocals]
5. MY MICHELLE*
6. ESTRANGED*
7. DOUBLE TALKIN' JIVE*
8. SWEET CHILD O' MINE*
9. WELCOME TO THE JUNGLE*

CD 5
LIVE IN LAS VEGAS
(Thomas & Mack Center – January 25, 1992)

1. NIGHTRAIN
2. MR. BROWNSTONE*
3. LIVE AND LET DIE*
4. ATTITUDE*
5. IT'S SO EASY*
6. BAD OBSESSION*
7. WELCOME TO THE JUNGLE*
8. DOUBLE TALKIN' JIVE*
9. VOODOO CHILD (SLIGHT RETURN) / CIVIL WAR / VOODOO CHILD (SLIGHT RETURN)*

CD 6
LIVE IN LAS VEGAS (cont'd)

1. DON'T CRY (ORIGINAL)*
2. WILD HORSES*
3. PATIENCE*
4. YOU COULD BE MINE*
5. SO FINE*
6. NOVEMBER RAIN*
7. INTROS / DRUM SOLO*
8. SLASH SOLO*
9. SPEAK SOFTLY, LOVE (LOVE THEME FROM THE GODFATHER)*
10. ROCKET QUEEN

CD 7
LIVE IN LAS VEGAS (cont'd)

1. SAIL AWAY SWEET SISTER*
2. SWEET CHILD O' MINE*
3. MOVE TO THE CITY*
4. HOTEL CALIFORNIA / ONLY WOMEN BLEED / KNOCKIN' ON HEAVEN'S DOOR*
5. YESTERDAYS
6. MY MICHELLE*
7. ESTRANGED*
8. MOTHER* / PARADISE CITY

DISC 8 - BLU-RAY VIDEO
LIVE IN NEW YORK
(Ritz Theatre – May 16, 1991)
* Previously unreleased*

---
We Also Recommend