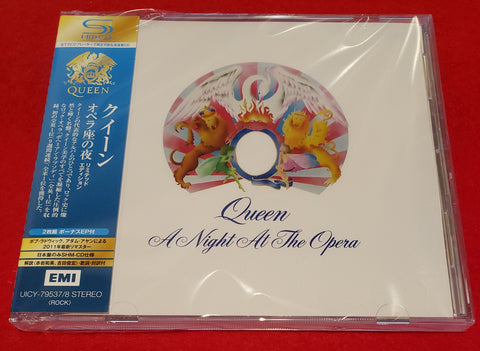 Queen - A Night At The Opera - 2021 Japan Limited Deluxe Edition SHM - 2 CD - UICY-79537/8
Brand new and factory sealed.
Track Listing:
[Disc 1]
1.Death On Two Legs
2.Lazing On A Sunday Afternoon
3.You're My Best Friend
4.I'm In Love With My Car
5.Sweet Lady
6.Seaside Rendezvous
7.Good Company
8.'39
9.Prophet's Song
10.Love Of My Life
11.Bohemian Rhapsody
12.God Save The Queen

[Disc 2]
1.Keep Yourself Alive (Long-Lost Retake, June 1975)
2.Bohemian Rhapsody (Operatic Section A Cappella Mix 2011)
3.You're My Best Friend (Backing Track Mix 2011)
4.I'm In Love With My Car (Guiter & Vocal Mix 2011)
5.'39 (Live at Earl's Court, June 1977)
6.Love Of My Life (South American Live Single, June 1979)
SHM-CD (Super High Material CD) is a superior quality CD fully compatible with all CD players.
---
We Also Recommend